Etter to store singler i 1960 med Stuck On You og It's Now Or Never, hans første nyinnspillinger etter militertjenesten i Tyskland, var 1961 året for flere store slagere.
De to største var Wooden Heart og Surrender, selv om kanskje en tredje single, Are You Lonesome Tonight, har overlevd best av disse i ettertid. Førstnevnte var som It's Now Or Never året før en omarbeidelse av en eldre italiensk sang: Torna a Sorrento fra 1911.
Wooden Heart var egentlig bygget på en tysk slager, og var en låt som aldri ble utgitt i USA. Den har blitt innspilt av en rekke artister, men Elvis fikk den største suksessen med låten.
Seks singler av Presley var innom VGs Topp 10 i løpet av året, og utenom de nevnte finner vi:
Little Sister (nr 6/oktober)
His Latest Flame (nr 4/november)
(Marie's the Name) His Latest Flame (nr 5/desember)
Elvis og produsent Sholes valg med å velge eldre innspillinger skulle også fortsatte med hell et par år til. 1962 skulle kanskje bli et av kongens mest populære år – i hvert fall om man ser på listene.
---

ELVIS PRESLEY (1935-77)
Wooden Heart
(Fred Wise/Ben Weisman/Kay Twomey/Bert Kaempfert)
1960 RCA
Produsert av Steve Sholes
Utgitt på soundtracket G.I. Blues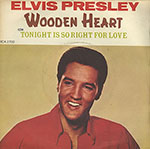 ---
Surrender
(Enersto & B.G. de Curtis/Doc Pomus/Mort Shuman)
1961 RCA
Produsert av Steve Sholes