Cliff Richard fortsatte inn i 1962 med nye store slagere – og han ble i tillegg dette året også en av årets store filmvinnere.
The Young Ones danket hjemme hos britene ut samtlige Elivs-filmer i popularitet, og singlen satte salgsrekorder der den skjøt inn på førsteplass like på nyåret. I Norge nådde ikke Cliff toppen dette året, men det skyldes mer andre hits enn noen dalende popularitet.
I 1963 skulle Cliff vende tilbake til toppen også her hjemme.
Mange spådde at The Young Ones skulle bli det store gjennombruddet også i USA, men av en eller annen forunderlig grunn, ble filmen markedsført som It's Great To Be Young på andre siden av Atlanteren. Effekten med en «tittel-låt» ble dermed borte, selv om filmen i seg selv ikke gjorde det så ille.
Typisk nok var Cliffs andre store single dette året en seig klineballade i suppeklassen: I'm Looking Out The Window var egentlig innspilt med Peggy Lee i 1959.
Cliffs to andre slagere dette året, var It'll Be Me og The Next Time.
I ettertid har The Young Ones blitt en av Cliffs store klassikere, som i 1980 også ga opphav til en TV-serie på BBC.
Og i 1986 da Living Doll ble innspilt på nytt i en noe «humorisert» versjon, var den gærne gjengen som backet opp Cliff, nettopp kalt opp etter denne låta: Cliff Richard & The Young Ones.
---
CLIFF RICHARD (f. 1940)
& THE SHADOWS
The Young Ones
(Sid Tepper/Roy C. Bennett)
1961 COLUMBIA
Produsert av Norrie Paramor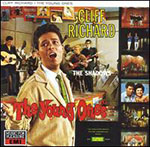 ---
I'm Looking Out the Window
1962 COLUMBIA
(John Jacob Niles)
Produsert av Norrie Paramor