ABBA seilte inn i 1977 som verdens mestselgende gruppe, og de utnyttet det kommende året godt med både deres første verdensturné og innspilling av både film og nye låter.
Norge fikk æren av å åpne turnéen i januar, der kronprinsparet sammen med 5 000 andre publikummere fikk oppleve kvartetten på nært hold.
Deretter bar det av gårde rundt i Europa, på de britiske øyene – og ikke minst i Australia, der over 150 000 fans fikk oppleve elleve elleville konserter.
Utgivelsen av Knowing Me, Knowing You samsvarte med turnéen, og singlen ble en av ABBAs største suksesser, selv om fraværet av de høyeste listeplasseringene i Skandinavia viste at de fleste vel allerede hadde hørt fra seg låten på albumet Arrival. Singlen var den tredje – og siste – fra dette albumet.
I Norge ble nemlig single nummer to Money, Money, Money adskillig større, og her ble den liggende på listene i mange måneder inn i 1977. Og svenskene ga den aldri ut. Det var nok til dels den stadig gjentakende kritikken om at ABBA var blitt for kommersielle. Man ble jo som kjent aldri profeter i eget hjemland …
Etter rundturen på scenen, gikk ABBA senvåres tilbake i studio og arbeidet med hva som skulle bli deres femte album – som enkelt og greit ble hetende The Album.
Dette kom i butikkhyllene i riktig førjulstid i desember, og var like riktig promotert av førstesinglen The Name of the Game, som viste et noe mer innadvendt og voksent ABBA. Samtidig ble også halvdokumentaren ABBA – The Movie sluppet, til godt besøk – men heller lunkne kritiker.
På turnéen hadde gruppen eksperimentert med en minimusikal, The Girl With the Golden Hair. Med Thank You For the Music i spissen for de tre låtene, ble denne inkludert på albumet – og viste ypperlig ABBAs tilnærming til Music Hall-tradisjonen fremfor rock – selv om gitarene stadig satt på et par andre spor fra utgivelsen.
Mange noterte seg også lengden på låtene, der flere oversteg single- og radioformatet. Eagle varte i nesten seks minutter, og The Name of the Game var også inkludert i en betydelig lengre versjon enn singleutgivelsen.
Låten ble ikke blant de aller største slagerne fra gruppen, men det ble definitivt neste single – Take a Chance On Me – som kom i hyllene senvinteren 1978.
---

ABBA
Money, Money, Money
(Benny Andersson/Björn Ulvaeus)
1976 Polar
Produsert av Benny Andersson og Björn Ulvaeus
Utgitt på albumet Arrival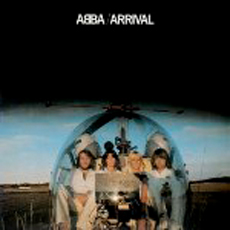 ---
The Name of the Game
(Benny Andersson/Stig Anderson/Björn Ulvaeus)
1977 Polar
Produsert av Benny Andersson og Björn Ulvaeus
Utgitt på albumet The Album